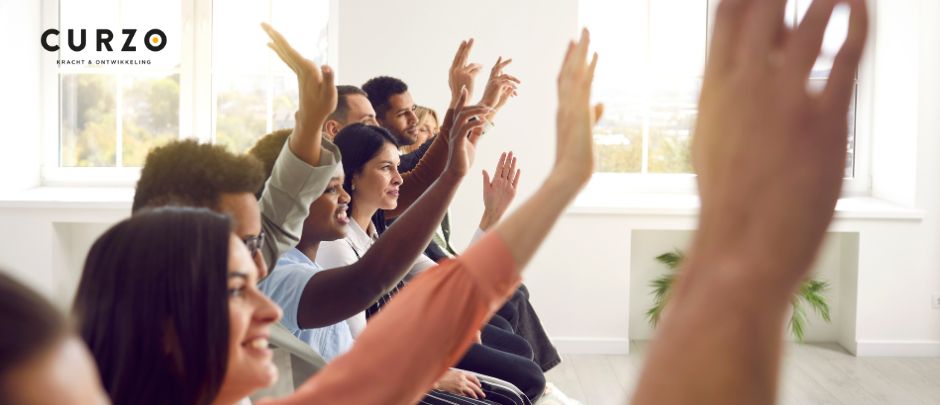 Empowerment Workshop for Diversity, Inclusion, and Anti-Harassment
Step into the future with our innovative Empowerment Workshop, designed to address key challenges in today's hybrid workplaces. Timely and vital, this workshop is perfectly aligned with your themed week on Diversity & Inclusion, making it an essential part of your organization's learning journey.
The Empowerment Workshop offers comprehensive training in dealing with harassment and promoting a respectful environment. From setting clear boundaries and confident body language to understanding and applying anti-harassment protocols, the program addresses a multitude of scenarios and equips participants with practical skills. Moreover, we encourage teams to share non-personal insights about any recent harassment incidents. This invaluable input enables us to deliver a tailored, engaging, and current workshop that precisely meets your needs.
Here's a glimpse of what we offer:
Body language reading and expression
Training in the ability to communicate boundaries
Prevention of unwanted physical contact
Defense techniques against pin-downs, physical aggression, and weapon threats
Strategies to manage group intimidation, encirclement, or physical violence
The above is just a small sample of the potential topics in the program. Each program will be custom-made based on your specific needs.
Our goal is not just to educate but to empower. The Empowerment Workshop fosters an environment where employees can be authentic, feel comfortable, and freely express themselves. By encouraging open conversations around harassment, we help reduce stress, enhance team communication, and support the building of a more inclusive culture. Additionally, the workshop is an effective team-building exercise. As participants learn to respect and protect one another, they forge stronger connections, fostering a sense of unity and inclusion within your diverse workforce.
By investing in our Empowerment Workshop, you are investing in a more harmonious, diverse, and inclusive future for your company. It's time to empower your team and cultivate a culture where everyone can thrive."
Workshop Details:
Duration options: 90, 120, or 180 minutes.
Prices per person: €29.99 for 90 minutes, €34.99 for 120 minutes, or €39.99 for 180 minutes.
Please note, we require a minimum of 6 participants, unless otherwise requested.
All prices are exclusive of VAT/BTW and do not include international travel expenses or travel expenses to locations further than 65KM from our headquarters.

Contact Us to Book Your Workshop

We're looking forward to bringing this transformative experience to your organization. We have successfully catered to over 50 local and worldwide organizations such as ING, Paramount Benelux, Jeep, Snow World, Ministry of Defence (NL) and many more. Should you have any questions or need more information, don't hesitate to get in touch.
Best regards,
Ryan Sibelo
Founder, Curzo
About Curzo
Founded in 2015 by Krav Maga Global's Expert Instructor, Ryan Sibelo, Curzo is dedicated to educating individuals and businesses with easy-to-apply techniques that stimulate rapid mental and physical empowerment.
Our Services
Curzo offers a wide range of training modules, including:
Warrior Mindset Training
Stress Reduction through Mindfulness
Mental and Physical Empowerment Training (Maximizing Your Potential)
Risk Analysis for Businesses (Harassment and Violent Encounters)
Self-Defence Techniques (Armed and Unarmed)
Body Language Training (Confidence, Not Arrogance)
Communication Training: Maintaining Friendliness While Respecting Boundaries
Our Impact
We currently cater to over 500 unique children and adults weekly across four national cities, and serve numerous businesses and government agencies in the Netherlands and around the world.
Our Mission
Our mission is to empower individuals worldwide with proven, real-world techniques to develop personal empowerment. We strive to instil confidence and positive mindsets in each trainee, promoting inner peace and the realisation of their fullest potential. We provide businesses globally with inspiring, helpful, and fun courses, workshops, and seminars, fostering a resilient, inclusive, and empowered workforce.
Meet Our Founder – Ryan Sibelo
Ryan Sibelo, a seasoned trainer in Krav Maga, Mindfulness, and Empowerment courses, has been passionately serving the field for over 10 years. His highest joy lies in helping individuals realise their full potential. Recognised as one of the top-ranked Krav Maga self-defence, combat, and mindset instructors in the Netherlands, Ryan received his first Black Belt Expert degree from Master Eyal Yanilov in Netanya, Israel, in 2017. His accolades include a higher Expert degree and the titles of Combat Mindset and Fighting Instructor in 2021 and 2022.
"When I began my journey with Krav Maga and mindset courses, I became passionate about gaining comprehensive control over my mind and body. I felt more secure, capable, and healthier, both mentally and physically. I even discovered my power to defend myself. My new-found passion was to help others feel the same empowerment, and that led to the birth of Curzo. We aim to aid as many individuals and businesses as possible in their journeys to empowerment, from self-defence techniques to mindset training and integrated team-building programs. We at Curzo take teaching seriously, but we also believe in the power of laughter. Learning is most effective when participants are relaxed, having fun, and feel safe during the training or course. I eagerly look forward to meeting you during one of our workshops, training sessions, or courses. Here's to your journey towards empowerment!"

– Ryan Sibelo

Krav Maga Global Expert II – Empowerment Coach – for Individuals and Businesses